MWT300 truck-mounted water well drilling rig shipped to Zimbabwe
Aug 15, 2022
The MWT-300 truck-mounted water well drilling rig uses a new SINO HOWO truck chassis and is equipped with a 22 bar two-stage compression high-pressure air compressor. Its lifting force can reach 17 tons, and it can drill water wells with a maximum depth of 300 meters.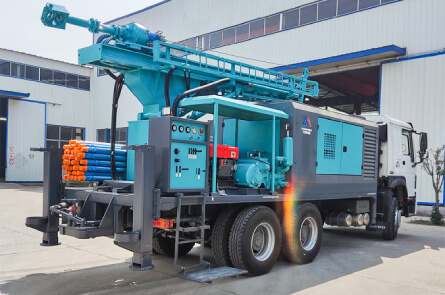 Application: Drill Water Wells
Capacity
Hole Diameter : 140 – 325 mm (51/2″ – 13″)
Maximum Depth: 300 m
Drilling Method : DTH and Rotary Drilling
Prime mover
Option 1: Use the PTO system and use the transfer gearbox to take the power from the truck engine (290hp/336hp/371hp) to drive the hydraulic system.
Option 2: Use a 75kw diesel engine for the individual configuration of the drilling rig.
Platform Structure
Heavy I and C section welded steel structure covered with 5mm chequered plate
Mast Assembly
The compound drill boom is lifted by double oil cylinders, which increases the lifting force and reduces the transport size.
Mast Overall Length : 8000 mm
Rotary Head Travel : 6600mm
Rod Handling :6m
Centralizer Opening : 14″ (355mm)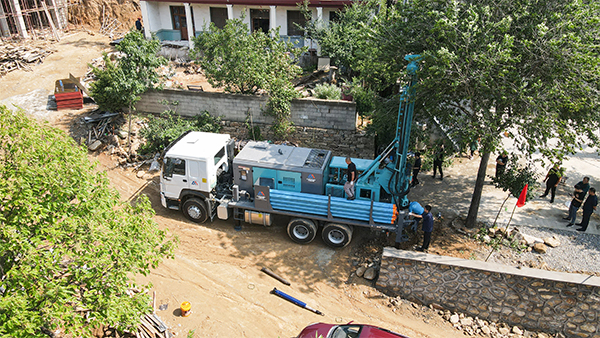 Mast Raising Cylinder :Mast is raised and lowered by double hydraulic cylinder
Feed System
1 x Double acting hydraulic cylinder with 1:3 rope reeving system
Pull Up Force : 17Ton
Pull Down Force : 10 – 110Tom
Pull Up Speed : 25 m/min
Pull Down Speed : 30 m/min
Rotary Head Assembly
Self-developed fabricated steel body with spur gear reduction
and oil bath lubrication, driven by dual hydraulic motors.
Maximum Torque : 6000 Nm
Rotation Speed : 66 – 135 rpm Fine controlled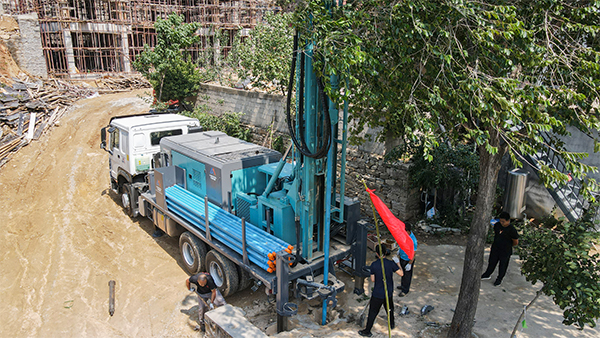 Hydraulics
2 x Fixed displacement pump for Feed and Rotation
1 x Fixed displacement pump for Mud pump
3 x Fixed displacement pump for Hydraulic cooler, Auxiliary operations and Micro feed.
Maximum System Pressure : 2900 psi (200 bar)
Hydraulic Oil Cooler : 70 gpm
Hydraulic Tank Capacity : 600 litres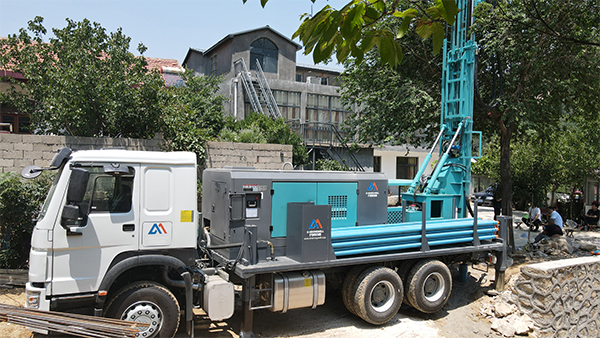 Control Panel
Centralized control panel is at rear end of the equipment for convenient view of drill table provided with all necessary gauges, control system and emergency switch. Locking arrangement is provided for the safety of control panel.
Breakout Wrench
4 x Hydraulic levelling jacks are provided for quick setting and Levelling Jackslevelling with heavy duty telescopic guides. Locking check valves for safety with adequate capacity to withstand load.
Water/ Foam Injection Pump (optional)
Hydraulic operated water injection triplex pump with necessary fittings, pressure regulator, flow regular, check valve and suction filter are provided.
Maximum Flow : 80 Ipm
Maximum Pressure : 40 kg/sq.cm
Single Rod Changer
Manually operated single rod changer to couple drill pipe to Rotary head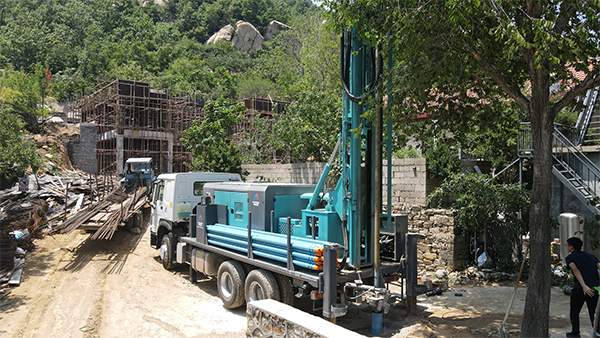 Winch
Hydraulic operated auxiliary winch to load drill pipe into rod changer with a lifting capacity of 5 ton.
Welding Machine
Hydraulic driven semi brushless welding alternator is provided for welding casing pipes
Recommended Weld rod size : 2.5 mm to 5 mm only
Weld current : 300 amps @ 60% duty cycle
Optional single phase : 6.0 kVA @ 220v, 50 Hz
Airline Lubricator
A positive acting venturi type inline lubricator is provided for injecting oil to the down hole hammer.
Tank capacity : 15 litres
Working pressure : 350 psi
Recommended Air Compressor
MININGWELL/ATLAS COPCO/LIUTECH
Air Compressor Capacity:
1100CFM – 25 BAR – 309kW engine
900CFM – 22 BAR – 228kw engine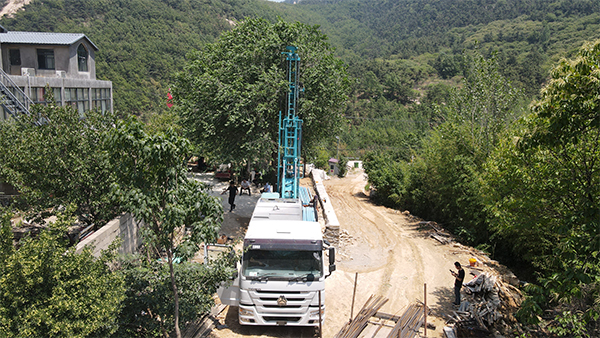 Mud Pump
Hydraulic operated BW 250 Mud Pump
Stroke : 4″ (100 mm)
Engine power: 15 Kw
Displacement (Max recommended) : 250L/min
Maximum working Pressure : 2.5Mpa
Additional Fitments
Night Lights, Tools box, Hammer stand
User Manual
Manual for Operation, Maintenance and Spare Parts
Truck Option
SINO HOWO Truck: 6*4/6*6/8*4
Dongfeng Truck: 6*4/6*6/8*4
Shacman truck: 6*4/6*6/8*4